Take A Seat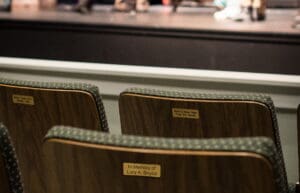 Our amazing Center for Science and the Arts broke ground in October of 2009 and was made possible by those who donated to our "Take A Seat" initiative. Since the dedication and ribbon-cutting of the Center for Science and the Arts on October 1, 2011, this building has been a blessing to our Fine Arts & Science departments, not to mention a decade of BCS Bears!
In honor of this momentous occasion, we are once again asking our community to "Take A Seat" in the Iva Lea Worley Barton Theater. Leave a legacy at BCS for generations to come. All donors who "Take A Seat" will have a name plaque placed on the back of a seat in the theater. Sponsor a seat for yourself or honor someone you care about.
See the original articles in the BCS Bear Facts Newspaper below. Click on the article to go to the full archived paper.