Brentwood Cheerleaders are the spirit leaders and joy bringers of BCS. They encourage the student body to do their best and never give up. They are present to lift everyone up and make their day better.
Their responsibilities include cheering at all football games as well as most basketball games. They plan and put on 5 pep rallies throughout the year. These pep rallies allow each athlete and the sport they participate in to be promoted and recognized.
They also hold a Little Bear Cheer Camp each year for girls in Kindergarten through 5 th grade. The Little Bear Cheerleaders get the opportunity to perform with the High School Cheerleaders at either a home football or basketball game.
The cheerleaders are expected to be kind and encouraging to everyone they meet. They must remain academically eligible to cheer at games and participate in pep rallies.
The goal of the cheerleaders and the coach is to bring joy to everyone they meet while shining their light for Christ. No act is too small.
Julie Ann Harper
Head Cheer Coach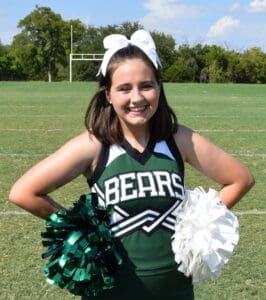 Corrie Hager – Cheer Captain – Senior
This is Corrie's 6th year in high school and middle school cheer. Outside of cheer she enjoys playing softball for the 4th year and doing choir band and theater.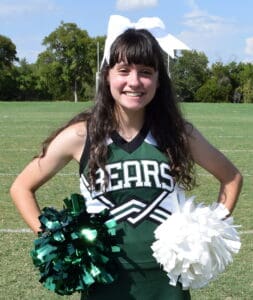 Genevieve Graessle – Co-Captain – Junior
This is Genevieve's second year in cheer and first year as co-captain. Besides cheering for her Bears, Genevieve loves to play soccer, is a representative in Student Council, and is the editor for the BCS newspaper. She is a member of Encore for her second year and she also enjoys serving at Mount Nebo, working with kids each week.
Emma Dowell – Senior
This is Emma's 3rd year on the BCS Cheer squad. Outside of cheer, she enjoys singing and playing the piano. This is her fourth year of high school choir and her second year as a member of Encore.
Madison Moseley- Senior 
This is Madison's first year to ever be in cheer. She plays soccer & golf outside of cheer & enjoys socializing with friends.
Joslyn Hoffmeyer-Gay – Senior
This is Joslyn's first year of cheer. Outside of cheer, she leads the drumline and the band and she enjoys hanging out with her fellow classmates!
Mari Murillo – Junior 
This is Mari's first year in cheer. Outside of cheer Mari enjoys singing, drawing and spreading positivity.
Angelique Devine – Sophomore
Angelique is new to Brentwood and has recently become a cheerleader for BCS. She has cheered for 2 years prior to Brentwood and loves showing school spirit and motivation! She is currently Miss Austin Texas Teen USA and vying for the title of Miss Texas Teen USA.
Molly Allen – Sophomore
This is Molly's first year on cheer. Outside of cheer she likes to attend youth group events and be with her friends.
Natalie Hargrove – Sophomore
This is Natalie's first year on the BCS cheer squad and her second year at Brentwood. Outside of cheer Natalie is playing softball for the second year, and writing in the Brentwood newspaper for the first time. She also enjoys hanging out with her friends and family.
Rebecca Schmitz – Sophomore 
This is Rebecca's first year of cheer. She plans to play softball in the spring. Rebecca enjoys spending time with friends.