Football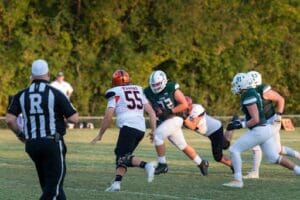 On August 11th, the 2023 Football season began with a scrimmage against Thrall, then August 18th, pre-season quickly wrapped up after our home scrimmage against Florence. After weeks of practice and scrimmage, the Bears finally made their home game debut against CTCS. With a score of 40-21, BCS won their first game of the season, creating momentum for the following week as they faced the Somerville Yeguas for their second home game on, winning 50-22. The Bears record currently sits at 3-0 as they beat TMI Episcopal 40-7 this past Friday, September 8th. This upcoming week is another away game facing D'Hanis.
JV Football has worked in games, starting the season with a scrimmage against Brazoswood Christian at CTCS. The next week, JV had a tough fight against Somerville, falling to a score of 20-16. The following week, JV won their first game of the season against Georgetown Eastview, winning 42-6. The week of September 14th, Junior Varsity will play against Savio. 
Middle School: 
Flag and Tackle Football have both started, Tackle Football has played two games, one away and one at home, starting August 31st. The next game will be this Thursday, September 14th against St. Gabriel's at home. Flag Football started Sept.7th and will continue this week on Thursday, September 14th on the BCS Baseball field at 4:30/5:30pm. All middle school schedules for Flag and Tackle Football can be found on our website. 
Volleyball
 
Volleyball has had a great start to the pre-season. Having already played 34 games this pre-season, and district starting soon, the BCS Lady Bears currently sit with a record of 23-10-1. A heavy pre-season has allowed for the Lady Bears to play in four tournaments, several scrimmages, and many non-district opponents. Our Volleyball team has trained long and hard these past few weeks and are ready for the first district opponent, Boerne Geneva, on September 12th at 7:15 pm.
Middle School: 
The seasons are moving fast and middle school Volleyball is one of them. In all, there are two 5th and 6th grade teams and three 7th and 8th grade teams. The schedule is posted on our website for specific start times. September 5th and 7th our 7th and 8th grade teams got to play against Hyde Park and Hill Country. This week, every team will get a chance to compete.

Cross Country

Boy's and Girl's Cross Country (CC) have started their meets off strong. First, traveling to Wilco Park, we had three Varsity Girls teams and two Varsity Boys teams compete. The second tournament, Cross Country, headed to San Antonio to compete in the FEAST race. September 9th, both teams headed to the St. Andrews Invitational. For the boys, they had 137 runners and 12 teams, with BCS coming in 5th overall and a total of 10 runners participating. Girls had placed 5th overall, with 138 runners and 13 teams. Coach Smith was impressed with all of our solid times! The next meet is this Thursday, September 14th at the Salado Invitational.
Wilco Park Results:
Harper and Katie: 26.04 (15th place)
Hailyn and Lauren: 28:10 
Lucy and Lynden: 29:17
Renne and Anh: 21:12 (9th place) 
John and Nico: 24:19 
St. Andrews Invitational: 
Leaders- 
Renne: 16:07 (1st place)
Hollis: 23rd place
Anh: 27th place
Lucy: 3rd place
Lauren: 18th place
Lynden: 25th place