We are blessed with amazing students lead by wonderful staff and faculty. We wanted to share some of our student's achievements. Our Bellas, Band, and Middle School Basketball teams are doing wonderful things!
Lady Bellas
On Saturday, February 23rd our Lady Bellas competed at the American Dance Competition.  The competition included more than 35 large public and private schools. This was a very long 14 hour day for our Bellas but they turned all the hard work into incredible rewards as they walked away with top scores!  Here are your Bella's 2019 awards:
Sweepstakes Award
Award of Excellence for top scores in all three dance routines.
Best in Class Overall
Judges Award for Group Lyrical
First Place Academic Champions for the highest team GPA
First Runner Up in Duet Division (Addison Alberta and Taylor Warner)
First Place in Small Ensemble Division for Trio (Olivia Wofford, Natalie Barry, and Lauren Warner)
 
The Lady Bella's represent our school with dignity and grace and these scores just confirm that they are the best in Texas!
Band
More than 10,000 high school band students from across Texas auditioned in twenty-two different regions for a place in their respective all-region bands. The top chairs in each region advanced to one of the five area auditions held this past January across the state and only 280 of these 2,288 students were selected for all-state honors.  Your Bears had 4 members make both Region and Area.  Here they are: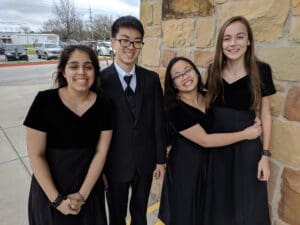 Your ATSSB Region and Area Band representatives:
Julia Glenn – Flute
Emma Nguyen – Flute
Zoe Pedroza – Clarinet
Min Yoon – Tuba
Then, as a result of the ATSSB area auditions:
Min Yoon became the fourth student in BCS history to earn a spot in the all-state band!
Min participated in the all-state band clinic and concert at the Henry B. Gonzales Convention Center in San Antonio, culminating in a concert at the Lila Cockrell Theatre.
Congratulations to our 4 outstanding Bear Band representatives and a special congratulations to our All-State Bear, Min!
Aside from individual performances, your BCS Band, led by Travis Pollard, proved what we already knew.  They are simply the best!
Your BCS Bear Band entered the ATSSB "Outstanding Performance Series" competition. Your BCS Bear Band placed first in our region!  This was against competition from public and private schools.
After area level judging was completed your BCS Bear Band advanced to the state level!! This is a high honor, establishing your BCS Bear Band as one of the top performing bands in this state.
Middle School Basketball
Your 5/6 grade Lady Bears Green team won the CAPPS 4A basketball championship on February 19th against St. Austin's.  Way to go District Champion Bears!
Our 5/6 Boys 6A team closed out the season in 3rd place with a win over Holy Family.
Our 7/8 grade Lady Bears White team won the CAPPS basketball championship against Regents for their division.  Way to go District Champion Bears!
It's a great day to be a Brentwood Bear!